China launches its longest manned space mission
Comments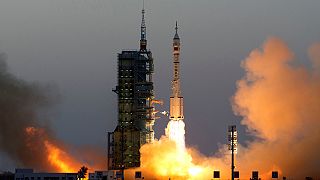 China has launched its longest manned space mission, sending two men into orbit to spend a month on board a space laboratory.
China launches latest manned mission to space https://t.co/hPuZkxjr7P

— Reuters Science News (@ReutersScience) October 16, 2016
The astronauts on this latest mission were Jing Haipeng, 49, who has already been to space twice, and 37-year-old Chen Dong.
The Shenzhou 11 blasted off on a Long March rocket from the remote launch site in Jiuquan, in the Gobi desert, in images carried live on state television.
They will dock with the experimental Tiangong 2 space lab which was sent into space last month.
This mission which is a source of considerable national pride is being seen as pointers to possible crewed missions to the Moon or Mars.