United Nations promises Haiti aid as Ban Ki-moon 'disappointed' with international response to hurricane
Comments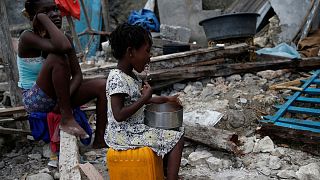 United Nations Secretary General Ban Ki-moon has promised more aid to Haiti in the wake of Hurricane Matthew, saying he is "disappointed" with the international community's response thus far.
The island nation is currently embroiled in a new wave of cholera infections after it was hammered by the storm which left close to 1,000 residents dead, 175,000 homeless and over 1.4 million in urgent need of humanitarian aid, according to reports.
#UNSG Ban Ki-moon:I urge all friends of Haiti around the world to step up and provide the resources the people of Haiti so desperately need pic.twitter.com/2aGAAC7HUk

— Nations Unies Haïti (@UNHaiti) October 15, 2016
Almost 10,000 people died after the waterborne disease was brought to the Caribbean nation after the deadly earthquake in 2010 and spikes of cholera cases have been reported in the south west of the country.
"We understand the impatience and the anger of the population who are waiting for emergency relief. We are doing all we can to facilitate the arrival of the assistance soon as possible," Ban said.
"We are going to mobilise as much resources and medical support to, first of all, prevent and stop this cholera epidemic and then, second, support the families of the victims," he continued.
The category 4 storm battered Haiti on October 4 and disrupted power, communications and transport. Essential relief has been slow to reach the many areas as roofing, food and medical supplies begin to dwindle.
Desperate locals have blocked roads and looted humanitarian convoys, as well as clashing with UN peacekeepers, who used tear gas to disperse a group of 100 residents on Saturday.
Looting in Haiti after Matthew WATCH at: https://t.co/vDxLPuWgynpic.twitter.com/HYBQuOeIfj

— friendlydb (@friendlydb) October 16, 2016
Ban condemned the unrest, saying that such incidents hurt those most in need.
The UN launched an emergency appeal for close to $120 million (109 million euros) only a fraction of which has been raised.