Concerns over succession after death of Thai king
Comments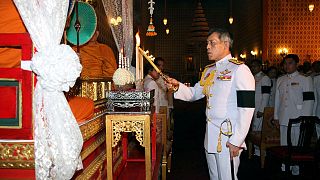 As Thailand continues to mourn the loss of their much loved King Bhumibol concerns have been raised over the royal succession.
Crown Prince Vajiralongkorn has requested that his ascension to the throne be delayed to give him adequate time to mourn his father.
Regent to rule Thailand before new kinghttps://t.co/JXaURfnUvZpic.twitter.com/TQjW6XQsIn

— Press TV (@PressTV) October 16, 2016
The heir held an audience with prime minister Prayut Chan-ocha and Prem Tinsulanonda who is currently standing in as regent, asking them to pass on his reassurances to the people.
According to formal procedure,the prince must be invited to ascend the throne by the president of the legislature, but this may happen at any time before his coronation.
No date has so far been set for the royal cremation, although a Thai official said the prince had asked that it be held after a year of mourning.