Thailand's King Bhumibol: a steady hand amid turbulent times
Comments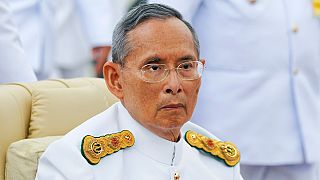 Revered in Thailand as a semi-divine, stabilising influence, King Bhumibol, known as Rama IX, say his country through from the aftermath of World War II to the age of social media becoming the world's longest serving monarch.
In the process he reigned through numerous military coups and 19 constitutional changes, during his long reign.
King Bhumibol acceded to the throne in 1946 after his brother 20-year-old King Ananda, was found shot dead in his bed in mysterious circumstances.
King Bhumibol worked hard to restore the Thai monarchy to its former cherished status, which had been damaged by the abdication of his uncle in 1932.
June 21, 1960: King Bhumibol & Queen Sirikit of Thailand, met Elvis on the "G.I Blues" set at Paramount Studios. pic.twitter.com/UGYcqmk0iq

— EP Fans of Nashville (@EPNashvilleFans) June 21, 2016
In his early years Rama IX had been dominated by a powerful military hierarchy, but backed by his allies he reestablished the monarchy touring Thailand's far flung provinces and focusing his efforts on agricultural development.
King Bhumibol of Thailand: The People's King (working title) by History … https://t.co/fm55OolfCA via YouTube</a></p>&mdash; kelvin c (cheng_yuhsiang) September 16, 2016
In 2006 his work was recognised by the UN and he was presented with the first Human Development Lifetime Achievement Award.
Political turmoil has been a part of the kings reign.
His first major intervention happened in 1973 when democracy demonstrators were fired on by the military the king allowed them to shelter in the royal palace.
During the chaos of the past decade supporters of ousted Prime Minister Thaksin Shinawatra accused senior royal advisors of plotting against the businessman politician. The stand off led to Bhumibol being accused of endorsing military takeovers and turning a blind eye to human rights abuses.
The king refused to get involved directly, but his influence was a factor when Thaksin's election victory was annulled by the courts.
The king has suffered ill health for a number of years and has spent a good deal of time in hospital.
Thai king suffering from 'severe infection'https://t.co/iKu5GHyFtT#Thailand#Bangkok#king#Bhumibol#Adulyadejpic.twitter.com/2Vf61xMijL

— ZamanAlwslEng (@ZamanEnglish) September 3, 2016
In his younger days he was an active individual enjoying photography, song writing and painting.
His health suffered its first set back in 1948 when his car collided with a truck between Geneva and Lausanne in Switzerland and he lost the sight in one eye and seriously injured his back.
The future of the Thai monarchy now lies in the hands of the Maha Vajiralongkorn the Crown Prince of Thailand.
A man described by the Economist as "unpredictable to the point of eccentricity."