French cinema icon Catherine Deneuve awarded Lumiere prize
Comments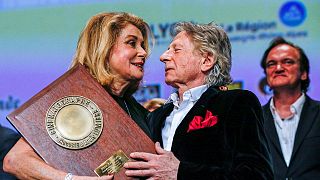 Icon of French cinema, Catherine Deneuve has been honoured for her contributions to the world of film in the city where it all began.
The Lumiere Film Festival in the French city of Lyon chose the actress 'for what she is, has done, says, acts, sings and delights from time immemorial and forever.'
"After Tarantino, Scorsese and Almodovar, she is the first woman to receive the Lumiere prize. And not just any actress, but the great Catherine Deneuve who received this award which could be considered the Nobel prize of cinema," explained Euronews culture reporter Fred Ponsard.
Accepting the honour, Deneuve said she was moved and dedicated her award to French famers.
She can add the award to a list of accolades, including a Silver Bear from Berlin and an honorary Palme D'Or from Cannes.
For many in the industry she is a role model, such as French actor Lambert Wilson who told our reporter that she was 'an inspiration' and she 'deserved the award'.
Deneuve's film career began in 1957, but it was 1964's Umbrellas of Cherbourg which propelled her into the spotlight from which point she had her pick of legendary directors.
The Lumiere Film Festival, now in its eighth edition takes place in Lyon, considered the birthplace of cinema. It was where the famous Lumiere brothers filmed their 1896 short film 'Arrival of a Train at La Ciotat.' And the town regularly recreates the iconic 'Workers Leaving the Lumiere Factory'.