Footage shows extent of bomb damage in eastern Aleppo
Comments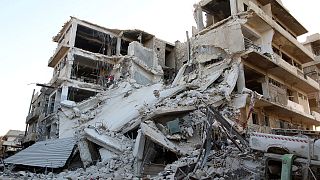 Images from the rebel-held east of Aleppo show the extent of the destruction caused by pro-Assad airstrikes.
The besieged area has been under constant bombardment since the breakdown of a short lived ceasefire in September.
Children cry, civilians scream, missiles explode – just another 24 hours in Aleppo. pic.twitter.com/l9oW22y5xJ

— AJ+ (@ajplus) October 15, 2016
Some 250,000 people are trapped under the siege which began when pro-regime forces took control of the Castello Road – a major route that runs into eastern Aleppo – in July.
Fresh peace talks have begun in Switzerland, however September's failed armistice was seen as the last chance for peace in Syria this year.