Diplomatic talks between US and Russia resume in Switzerland to discuss Syria peace.
Comments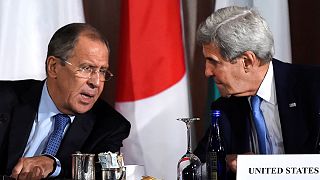 Syria peace talks have resumed in Switzerland after the failure of a short-lived ceasefire that led the US to break of diplomatic discussions with Russia.
Meeting in Lausanne, US Secretary of State John Kerry and Russian foreign Minister Sergei Lavrov will be joined by delegates from Turkey, Saudi Arabia, Iran and Qatar to try and secure a peace deal.
The US withdrew its cooperation with Russia over Syria after a painstakingly drafted armistice agreement swiftly fell apart.
Major players gather for Syria crisis talks amid low hopes https://t.co/gjQtePLF0spic.twitter.com/FoYi8Oln3I

— Press TV (@PressTV) October 15, 2016
Many saw the brief truce in September as the last chance for peace in Syria this year.
As fresh fighting erupts and pro-Assad and Russian forces continue airstrikes on Aleppo, many are playing down any hopes of a breakthrough.
This is #Aleppo#Syria today, just a few hours ago, victims of Assad regime.
It's so tragic: we are in 2016,an still a life is worth nothing pic.twitter.com/ih5X2oTkcm

— Zoya Baloch (@Proud_Baloch) October 14, 2016
Charities are calling for a 72-hour ceasefire to deliver much needed aid to the worst hit areas, but Kerry was quoted on Friday as saying he had no "special expectations" for the talks.
An unnamed French source told AFP: "When you see the results from the previous efforts, quite frankly I'm a bit sceptical about the next ones."