UNESCO moves to calm tensions with Israel
Comments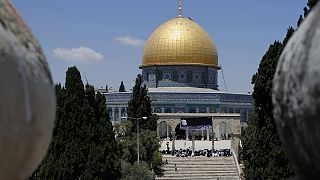 The UN's cultural agency UNESCO has moved to try to calm tensions with Israel after the country's cut cooperation with it on Friday.
Israel froze ties after the UN body adopted a highly critical draft resolution of Israeli actions at holy sites in east Jerusalem, a decision the head of UNESCO later tried to clarify.
Michael Worbs, UNESCO's Executive Board Chairman said: ''The board has 58 members, governments by the way. So in the end, 24 members of the board voted in favour of this decision, which shows it is a very divisive issue. And the origin of this division is not from inside UNESCO, it's from the real world, I would say."
But several politicians in Israel, including the prime minister, have accused the UN agency of denying Judaism's connections to holy sites in Jerusalem.
''With this absurd resolution, UNESCO has lost what little legitimacy it had left, but I believe that the historical truth is much stronger and will prevail," Benjamin Netanyhu said.
The row was sparked after the draft text repeatedly referred to the site, known to Jews as Temple Mount and to Muslims as the al-Aqsa compound by only its Muslim name.
The motion also accused Israeli security forces of agression towards Muslims at the site which has been a flashpoint of Israeli-Palestinian violence.