Airstrikes intensify in Aleppo, ahead of US-Russia peace talks
Comments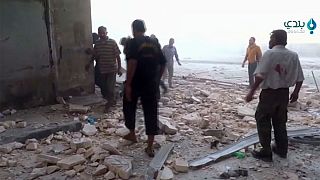 The Syrian government has renewed its offensive on Aleppo, ahead of US-Russia peace talks over the weekend.
Rescue workers say at least 150 people have been killed in the eastern rebel-held sector of the city in the last few days.
The Syrian government has given the go-ahead to UN aid convoys with the exception of Aleppo.
In the government-held western sector, at least four children were killed when shells landed near a school, in what the state news agency described as a 'terrorist attack'.
President Bashar al-Assad told a Russian newspapers that the battle for Aleppo would be an important springboard to push 'terrorists' back to Turkey. He added that the civil war was now a conflict between the West and Russia.