Turkey: Clashes on anniversary of peace rally suicide attack
Comments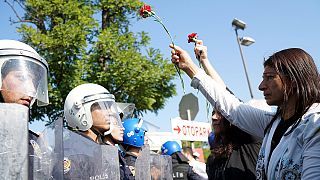 There were ugly scenes in Ankara on Monday on the anniversary of a suicide bombing that left more than 100 people dead.
Security forces clashed with pro-Kurdish activists trying to reach the site of the attack, blamed on ISIL.
Crowds cried 'murderous state' as they were blocked in their tracks, with dozens of arrests reported.
Citing security reasons, Turkish authorities only allowed relatives of the dead and a limited number of others through.
Tear gas and water cannon were used to disperse the demonstrators.
Some reports spoke of plastic bullets being used.
Police disperse groups marking first anniversary of Ankara attack https://t.co/Wsjct2yFrfpic.twitter.com/ln7bKwgvV9

— Hürriyet Daily News (@HDNER) 10 octobre 2016
With Turkey hit by a series of bombings blamed on ISIL and Kurdish rebels, Ankara's governor Ercan Topaca said: "Regardless of the motives and perpetrators, we condemn all terrorist attacks".
The double blast on October 10, 2015, killed 103 people and injured hundreds more.
It targeted a peace rally held by pro-Kurdish activists near Ankara railway station.
No one has ever been put on trial over the attack which followed the July 2015 collapse of a ceasefire between Turkish forces and the Kurdistan Workers Party (PKK).
Turkey's army said on Monday that security forces had killed 417 Kurdish fighters since late August, helping disrupt the militants' attack plans in the build-up to winter.
It said 88 members of the Turkish security forces had been killed and 152 wounded during the same period.
The PKK, which launched its separatist insurgency in 1984, is designated a terrorist organisation by Turkey, the United States and the European Union – a label it rejects.