Protest in Budapest at closure of Hungary opposition paper Nepszabadsag
Comments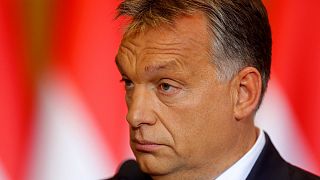 About 2,000 Hungarians have protested outside parliament in Budapest, saying press freedom is under threat following the closure of the country's leading leftist newspaper.
No democratic state can allow a newspaper to be annihilated like this
The owners of Népszabadság blame financial losses.
But civil rights groups believe it's been shut down because of its criticism of right-wing Prime Minister Viktor Orban's government.
"Anywhere in Europe there is need for a newspaper like this, especially in Hungary, and I am working on this right now, I am negotiating with the leadership of the owner Mediaworks," said the paper's editor-in-chief, András Murányi.
The company, which is owned by Austrian firm Vienna Capital Partners, says all operations have been suspended until a revamped business model can be implemented.
The ruling Fidesz party has described the closure as a "reasonable business decision".
The demonstrators beg to differ.
"Although in the last few years we have seen the efforts to ruin the freedom of press, and the annihilation of the different media outlets, but this time this is too much," said one woman at the protest in Budapest.
"I think no democratic state can allow a newspaper to be annihilated like this from one day to the next," a man added.
Protests #Budapest in front of the Parliament against shutting down of main opposition daily #Nepszabadsagpic.twitter.com/LPow6DUEn4

— Sezin Öney (@SezinOney) October 8, 2016
Some protestors in Budapest burn copies of pro government newspapers in response to opposition #Nepszabadsag closure. #magyaridok

— Sándor Zsíros (@EuroSandor) October 8, 2016
In its final edition on Saturday, Népszabadság reported on a government minister using a helicopter to fly to a wedding.
The closure has united in opposition both the far-right Jobbik party and the European Parliament president. Jobbik accused Fidesz of wanting to control the entire Hungarian media. Martin Schulz tweeted that the paper's sudden closure set a "worrying precedent".
Sudden closure of #Népszabadság sets a worrying precedent. I stand in solidarity with #Hungarians protesting today.

— Martin Schulz (@MartinSchulz) October 8, 2016
Employees only received letters on Saturday morning informing them of Mediaworks' decision.
"The paper's journalists simply thought their office was relocating, and from Sunday they'd be carrying on. But now they don't even know if they will ever continue and if they do, under what circumstances," reported Euronews correspondent in Budapest, Andrea Hajagos.