Pope Francis announces 17 new cardinals
Comments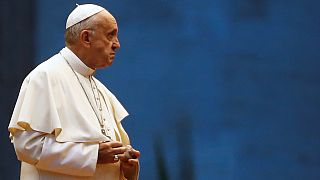 Pope Francis has announced the names of 17 new Cardinals that he will appoint next month.
They reflect his desire to re-pivot the Catholic church towards Asia, Africa and Latin America and 13 are under 80, meaning they'll be eligible to vote for the next pope.
The Central African Republic, Bangladesh, Papua New Guinea, Malaysia and Lesotho will all have a cardinal for the first time.
Last year the pope visited impoverished Central African Republic where Muslim and Christian militias are at war with each other and urged them to seek reconciliation.
Francis also announced that the current Vatican ambassador in Syria, Italian Archbishop Mario Zenari, would be made a Cardinal but remain in his post to show the Church's concern for "beloved and martyred Syria" – an allusion to the devastating civil war there.
Naming new cardinals is one of the biggest powers a pope has, allowing him to change the leader of a church which has one point two billion members.