German police hunt for Syrian after explosives found in his flat
Comments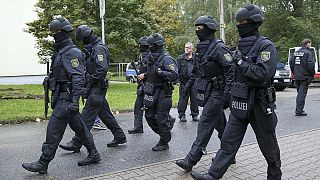 Police are searching for a Syrian asylum seeker after hundreds of grammes of explosives were found in his apartment in the east German town on Chemnitz.
The man, who was born in Damascus, has been named as 22 year old Jabr Albakr who arrived in Germany last year.
Hundreds of police and commandos are scouring the area around the town in search of him.
The tracing for the suspect is running. However, currently we do not know where he is and what he carries with him. Be careful.

— Polizei Sachsen (@PolizeiSachsen) October 8, 2016
Three people have so far been arrested, none of them Albakr: two at Chemnitz train station and a third in the town.
Saxony Police spokesman Tom Bernhardt said that they had received a tip off from a domestic security agency about Albakr.
"We received yesterday from the Federal Office for the Protection of the Constitution the tip off that an attack with explosives might be under preparation here," he said.
But so far police have not said who or what Albakr was trying to target.
Police have evacuated the apartment block and the area around it as they prepare to safely dispose of the explosives.
We found explosives in the affected apartment. It is therefore necessary to carry on further evacuation measures at the area.

— Polizei Sachsen (@PolizeiSachsen) October 8, 2016
In July two attacks were carried out in Germany and claimed by Islamic state: an axe attack on a train near Wuerzburg and a suicide bombing which wounded 20 people in Ansbach.