Hundreds of migrants arrive in Sicily
Comments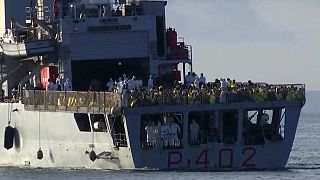 Hundreds of migrants have arrived at the Italian port of Messina.
A total of 368 were plucked from the water in the straits of Messina off Sicily on Wednesday.
They were travelling on three small vessels and three inflatable boats.
The Italian coastguard says they carried out six separate rescue operations on Wednesday.
The numbers
650 migrants arrive in Messina on Wednesday
4,655 rescued on Tuesday
28 bodies recovered
30 rescue missions off Libyan coast
11,000 rescued over two days
142,000 have arrived in Italy since the start of 2016
(Figures from the Italian coastguard)
11,000 rescued
More than 10k #migrants saved in a series of rescue operations coordinated by Italian guardiacostiera</a> since last Monday<a href="https://twitter.com/hashtag/Withrefugees?src=hash">#Withrefugees</a> <a href="https://t.co/5zMfd0eB1c">pic.twitter.com/5zMfd0eB1c</a></p>&mdash; Sebastiano Cardi (sebastianocardi) October 5, 2016
The latest to be rescued are some of the estimated 11,000 to be saved on Monday and Tuesday this week alone.
Hundreds were found adrift in unseaworthy boats in the open sea.
29 people were reported as having suffocated in the hold of one overloaded fishing boat.
It had around 1,000 people on board and was on the brink of capsizing.
The deaths bring the total number of those who perished this week to 50.
#Mediterráneo mata y suma cadáveres sin nombre.Ayer 36 personas perdieron la vida.Nuestra pequeña tripulación salvó a 1.846.Querer es poder pic.twitter.com/TjoSmZhHkd

—

PROACTIVA

OPEN

ARMS

(@PROACTIVA_SERV) October 5, 2016
Terribles photos d'ArisMessinis</a> au large de la Libye depuis un navire de l&#39;ONG <a href="https://twitter.com/PROACTIVA_SERV">PROACTIVA_SERV#AFP#migrantspic.twitter.com/kIE56hCB7X

— Grégoire Lemarchand (@greglemarchand) October 4, 2016
Three babies born on rescue vessel
Italian officials say three heavily-pregnant women rescued on Monday gave birth on board the coastguard vessel that was bringing them to safety.
The mothers and babies were said to be well.
#SAR#NaveDattilo#GuardiaCostiera: giovani #migranti, con assistenza personaleCIS0M</a>, danno alla luce 3 <a href="https://twitter.com/hashtag/NuoveVite?src=hash">#NuoveVite</a> <a href="https://t.co/G770GhRrwk">pic.twitter.com/G770GhRrwk</a></p>&mdash; Guardia Costiera (guardiacostiera) October 5, 2016