Renewed air strikes pound province of Aleppo
Comments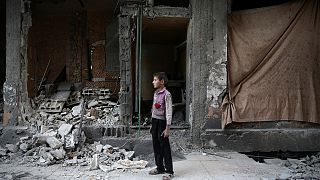 Syrian army offensive
Pro-government media say the Syrian army is pressing ahead in a major campaign on Aleppo, supported by Iranian-backed militias and Russian air power.
The aim is to take full control of the divided northern Syrian city, after a ceasefire collapsed last month.
Russian and Syrian warplanes are continuing to pound residential areas in besieged parts of the city where thousands of civilians are trapped.
The air campaign has hit hospitals, destroyed infrastructure and led to hundreds of civilian casualties.
The Latest: UN releases satellite images showing most recent destruction of Syria's embattled city of Aleppo. https://t.co/qVJpQvCXDp

— The Associated Press (@AP) October 5, 2016
Fresh air strikes on Aleppo province
Social media footage is said to show fresh military air strikes in the province of Aleppo.
The town of Daret Izza, 30 kilometres west of Aleppo, has reportedly been targeted.
A heavy cloud of smoke and dust
The two clips showed a heavy cloud of smoke and dust rising over buildings.
A bystander can be heard saying it was a cluster bomb strike on civilians in the town.
There has been no news on casualties.
Bomb factory found in Aleppo
The government-controlled Syrian Central Military Media has released footage from inside the Bustan Al-Basha neighbourhood of Aleppo.
The footage shows what appears to be a factory of hand-made bombs made using domestic gas bottles as shells.
There are also scenes severely damaged buildings.
Rebels claim to have repelled Syrian army offensive
Rebel forces say they have repelled a Syrian army offensive in southern Aleppo.
They claim to have inflicted losses on pro-government fighters after several hours of clashes on the fringe of Sheikh Saed district on the southern fringes of the rebel-held eastern half of the city.
Civilian casualties
In the 15 days since the collapse of the ceasefire, UK-based conflict monitor the Syrian Observatory for Human Rights says it has documented the deaths of 293 civilians in the besieged east of Aleppo.
The monitoring group says there have been 25 deaths in government-held west Aleppo as a result fo rebel shelling.