US tension over Russian missile deployment to Syria
Comments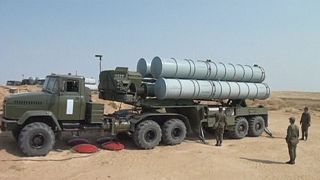 Russia has raised tensions once again in Syria with it deploying for the first time an S300 surface-to-air missile system to its Tartus naval base in Syria.
Where they make a desert, they call it peace

US Secretary of State
With Washington having suspended talks with Moscow over its role in the bombing offensive against Aleppo, the weapons appearance seems like an act of defiance.
Kerry suspended talks with Russia on Monday, accusing Moscow of failing to live up to its commitments to halt fighting and assure aid reached besieged communities.
"We are not giving up on the Syrian people and we are not abandoning the pursuit of peace," Kerry said on Tuesday in a speech in Brussels.
He accused Moscow of turning a blind eye to Syria's use of poison gas and "barrel bombs" – oil drums packed with explosives – to kill civilians.
"Where they make a desert, they call it peace," Kerry said, quoting the Roman historian Tacitus.
Russian Foreign Minister Sergey Lavrov said however that despite the US action his government would search for a solution.
"We are not giving up. We will strive for fulfilment of the (UN) Security Council decisions. We believe that the International Syria Support Group (ISSG) can and should play an important role in it."
US Secretary of State John Kerry expressed scepticism over Russia's commitment to ending the conflict in Syria.
"We will continue, as we have before, to pursue a meaningful, sustainable, enforceable cessation of hostilities throughout the country – and that includes the grounding of Syrian and Russian combat aircraft in designated areas. And Russia knows exactly what it needs to do."
The assault on #Aleppo is an assault on the whole world. https://t.co/GfGwPuGNG1pic.twitter.com/BbGds3rhHz

— Kofi Annan (@KofiAnnan) October 4, 2016
In and around Aleppo the now collapsed ceasefire has past without impact. The bombing continues with Syrian government forces claiming to be pressing ahead in a major campaign supported by Iranian-backed militias and Russian power to take full control of Syria's largest city.