Colombia peace deal: ceasefire with FARC will end this month, President Santos says
Comments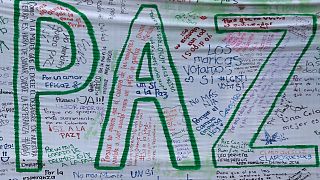 In Colombia, the ceasefire with FARC rebels has been extended until the end of this month, President Juan Manuel Santos has said. The move follows Sunday's referendum result, which saw the country narrowly reject a peace agreement to end 50 years of conflict with the leftist guerilla group. Talks have also resumed in Cuba to try to resurrect the deal.
President Juan Manuel Santos said: "The bilateral and indefinite ceasefire is in place until October 31. I hope that we can advance the deal through dialogue so we can formalise the changes and the agreement which will allow us to move forward and find a solution to this conflict."
While Santos has tried to strike a diplomatic tone, opponents, led by former President Alvaro Uribe, have insisted on a renegotiation of part of the peace deal.
"Our complaint is not that certain sections of society were left aside. Our complaint is that they agreed to something which seriously goes against Colombian democracy. What is first required here is that the national government – which allowed this – has to say clearly that there is a willingness to correct this peace deal,'' Uribe said.
Uribe, who is set to meet Santos for talks on Wednesday, remains strongly opposed to the FARC getting guaranteed seats in Colombia's congress or its leaders being offered immunity from jail.
But any re-negotiation seems to depend on whether the FARC would accept tougher conditions, most likely combined with a softening of Uribe's demands.