'The Corner' a rivalry born in Barcelona transfers to north London
Comments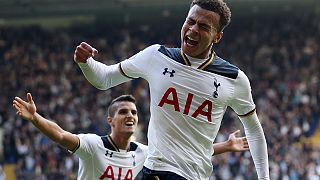 Euronews sports reporter Paula Vilaplana, guides us through the weekend's footy and one game in particular.
"Hello and welcome to 'The Corner.' The top two met in the Premier League over the weekend and the game lived up to expectations.
After a perfect start to the season for Pep Guardiola and Man City, the Citizens came back to earth with a bump losing 2-0 to Spurs.
Spurs deserved the three points at a pulsating White Hart Lane in a magnificent match against league leaders Man City.
The home side were dominant from the whistle and took the lead when Kolarov sliced a Danny Rose cross into his own net, much to his embarrassment.
Spurs made it two as the clock ticked down with a neat finish by Dele Alli for two-nil.
The side from north London could have made it three, but Claudio Bravo saved a spot kick from Erik Lamela.
Spurs are buzzing after the victory now in second spot in the Premier League and full of confidence.
Important information for all fans travelling by train to Sunday's game v ManCity</a> - <a href="https://t.co/kj4FH1riTa">https://t.co/kj4FH1riTa</a> <a href="https://twitter.com/hashtag/COYS?src=hash">#COYS</a> <a href="https://t.co/1Vibg7aaFQ">pic.twitter.com/1Vibg7aaFQ</a></p>&mdash; Tottenham Hotspur (SpursOfficial) 30 September 2016
So Tottenham's victory leads us nicely into Up and Down. Football has a habit of humbling the very best.
Up-for the Spurs' defence conceding just three goals in seven matches the best in the Premeir League.
Up-for Spurs boss Mauricio Pochettino he and Pep Guardiola go back a long way for a rivalry that began back in Barcelona.
The perfect performance?

Pochettino liked what he saw in SpursOfficial</a>&#39;s 2-0 victory over <a href="https://twitter.com/ManCity">ManCity: https://t.co/rEpJpkuafqpic.twitter.com/zUU1h3WGgV

— Premier League (@premierleague) 3 October 2016
Down-that's how City coach Guardiola is feeling, but never mind City top the league.
Down-Erik Lamela he missed a pen with Spurs two-up and City on the ropes, ah well!
The Spurs v Man City player ratings are in and it's more equal than you'd think https://t.co/u2WOPlmkL3pic.twitter.com/gUU6LtrxIm

— The Sun Football ⚽ (@TheSunFootball) 2 October 2016
Pep Guardiola and Mauricio Pocchetino are good friends and tend to speak their minds to the media after each game win or lose, Sunday was no exception:
Pep Guardiola was magnanimous in defeat:"We can just congratulations Tottenham, when the opposition is better, then you have to accept it and learn from it. Football is a process and all through the process sometimes you win and sometimes you lose and you have to learn what went wrong and keep going."
Pocchetino was purring:"I am very happy,very pleased, the performance was close to perfection. I think to play against a team like Man City you need to do a fantastic job and that is why I am pleased. I am proud of the performance and the players work rate.
The punsmiths were all over the back pages:
The Daily Mirror described Spurs as 'Boiling Hotspur.'
Metro sport made another pun 'Del of Win,' Dele Alli scored, get it!
Not to be outdone the Daily Star described it a 'Spurfect.' performance.
Back to international duty next week, except for, Sam Allardyce, as the qualification for the World Cup
in Russia continues. Euronews sports, as usual, has made some predictions.
You can join in using the hashtag #thecornerscores.
Italy 1-2 Spain
Turkey 1-1 Ukraine
France 3-0 Bulgaria
Portugal 4-0 Andorra.
That's all for now,but before we go we would like to bring a little hope to those that keep goal in the lower leagues. Check out this penalty save from the French Fifth Division his name is Jean Francois Bedenik and he plays for Vannes, penalty shoot out anyone.
Thank you for joining us we will see you next week when we take another corner, Adios."