Taliban fighters enter northern city of Kunduz
Comments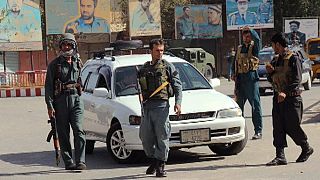 In Afghanistan, Taliban fighters have entered the strategic northern city of Kunduz.
The militants reportedly launched a major assault in the early hours of Monday. The latest offensive comes almost exactly a year after the Taliban briefly captured the city.
For now, the Afghan government insists Kunduz remains in its hands.
"The Taliban are 300 metres away from here and they have surrounded the entire city but the government tell us that everything is under control," said one resident in the city.
"The security situation is very bad, there is no safety at all," said another.
In Helmand province in the south of the country, Taliban fighters are also said to have made major advances.
The latest fierce fighting underlines the country's precarious security situation since NATO pulled out most of its combat forces and comes a day before a major donors' conference on Afghanistan in Brussels.