2024 Games: Thomas Bach and Francois Hollande discuss Paris bid
Comments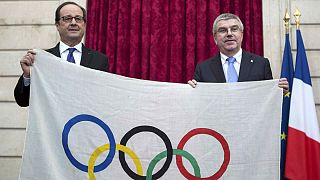 International Olympic Committee President Thomas Bach met with French President Francois Hollande on Sunday to discuss Paris' bid for the 2024 Games.
The French capital, which failed in bids for the 1992, 2008, and 2012 Games, is competing against Budapest and Los Angeles.
Despite the security threats in France, Francois Hollande repeated that Paris has the experience needed to organise and protect major events.
French President Francois Hollande: "France is able to host big events – recently with Euro 2016 but also with some 40 world and European championships across all sports these past years. We have the know-how and the technology to host big events while ensuring safety."
Next week, Bach will meet Italian officials, who still hope the Rome bid can be revived despite opposition from the city council.
The IOC will choose the host in September 2017.
Photo de famille à l'Elysee</a> à l&#39;occasion de la visite de Thomas Bach. La France est unie pour un projet commun <a href="https://twitter.com/Paris2024">Paris2024pic.twitter.com/2TBbcv5gSf

— France Olympique (@FranceOlympique) 2 octobre 2016