US-Russia diplomatic stalemate on Syria, as deadly air strikes hit Aleppo
Comments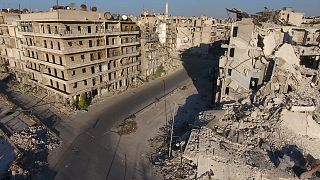 With fighting raging on the ground in Syria, the war of words between the US and Russia drags resulting in diplomatic deadlock.
Washington has accused Moscow of driving moderate rebels into the hands of extremists, as Russia ramps up its support of the Syrian regime.
Fighting in Aleppo has intensified after a US-Russia-brokered truce broke down last week.
"What's happened now, with the hitting of the humanitarian convoy, and with the subsequent siege on Aleppo, you've got a scenario now, a dynamic where as these moderate opposition forces are under real and increasing pressure by the regime, that they are driven more or less into the arms, they have to turn to Nusra (Front, referring to the al-Qaida-linked Fatah al-Sham Front) fight side by side. So, it just escalates and makes more confusing and more jumbled what is already a difficult situation," Mark Toner, US Department of State spokesman told reporters.
The Kremlin counters that America failed to separate moderate groups from jihadists as they attempt to oust Bashar al-Assad.However, Washington argues that the reformed al-Nusra group had become intermingled with civilians, and so could not be targeted.
On the ground, the UN estimates that 400 civilians, among them many children, were killed this week by air strikes from the Syrian government or Russian jets.
A UK monitoring group reported 16 civilians killed in the government held west of Aleppo, including five children.