Deadly Hurricane Matthew reaches highest level
Comments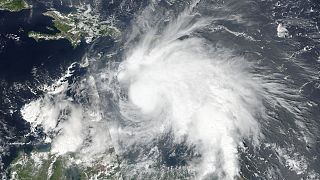 Hurricane Matthew has turned deadly off Colombia's Caribbean coast, killing at least one person as it heads north. Houses have been damaged and some of them submerged in ocean surges.
We can't do anything but watch

Slum dweller
With winds peaking at 160 miles per hour Matthew is now at the highest level, five, meaning it's the most powerful hurricane in the Atlantic ocean since Felix in 2007.
#Matthew becomes the first Category 5 hurricane in the Atlantic basin in 9 years. https://t.co/5M9FSBqejR

—

NWS

(@NWS) October 1, 2016
By Monday it will reach Cuba and Haiti and may eventually reach the United States.
Forecasters said up to 38cm (15 ins) of rain could fall across Jamaica and on southern Haiti.
Jamaica was hard hit by hurricane Gilbert in 1988, and the last major
hurricane in the region was Sandy, in 2012. Matthew could be the
most powerful storm to cross the island since records began,
meteorologist Eric Holthaus said on Twitter.
Even though Matthew will only clip Haiti it's likely to be most deadly there, where most people live in flimsy shacks with corrugated iron roofs that have little chance against high winds.
Worse, thousands still live in tents after a vicious earthquake in 2010.
"They've announced a hurricane. We're keeping watch. We can't do anything," Marcel Dervil, a slum dweller in the capital Port-au-Prince said.
"We could have repaired our homes, but we do not have money. We can't do anything but watch."
Food and other aid is being stocked up by the authorities as Haitians pray that they'll be spared another deadly natural disaster.