Turkey raids courthouses and jails in post-coup purge
Comments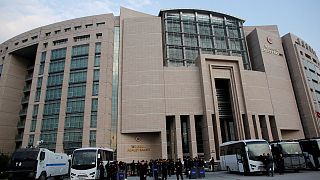 Turkish police have raided courthouses and prisons as the post-coup crackdown continues.
Prosecutors issued 87 arrest warrants for court staff and raided three courthouses in Istanbul, as well as issuing 75 warrants for prison guards in three jails.
It comes as Turkey ordered the closure of 20 TV and radio stations, including one that airs a children's programmes, on charges they spread 'terrorist propaganda'. The latest move adds to concerns over emergency rule being used to muzzle the media.
President Erdogan said he wants to extend the three-month state of emergency to eradicate the threat posed by suspected plotters. At least 100,000 officials have been detained or sacked as part of the investigations.
Turkey blames US based cleric Fethullah Gulen for masterminding the July 15 coup. He recently countered that President Erdogan was behind the putsch, saying it allowed him to cleanse the army and ministries of opponents.