Syria: US on verge of ending peace talks with Russia
Comments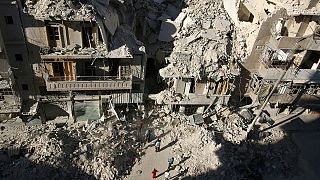 With each day bringing more horror for Aleppo, US President Barack Obama and German Chancellor Angela Merkel spoke by telephone on Thursday and both "strongly condemned the barbarous Russian and Syrian regime air strikes," the White House said in a statement.
The bombing of Aleppo right now is inexcusable

US Secretary of State
It comes as US Secretary of State John Kerry warned that Washington was close to suspending talks with
Moscow on a ceasefire in Syria.
"The bombing of Aleppo right now is inexcusable," Kerry told a public policy conference in Washington.
"We are on the verge of suspending the discussion because it is irrational in the context of the kind of bombing taking place, to be sitting there trying to take things seriously."
Secretary @JohnKerry's remarks at the Washington #IdeasForum: https://t.co/j4BVwEIusepic.twitter.com/xVt8vbbIld

— Department of State (@StateDept) 29 septembre 2016
Kerry spoke to Russian Foreign Minister Sergei Lavrov on Thursday, the US State Department said but it did not announce a suspension of the diplomacy, suggesting Washington may give Moscow a little more time.
With a short-lived ceasefire over, Russia is vowing to press ahead with the Aleppo offensive.
It says a solution is being hampered by a US failure to distinguish moderate Syrian rebels from jihadist extremists.
"We underline once again the need for the separation of the so-called peaceful opposition from terrorists," Russian Foreign Ministry spokeswoman Maria Zakharova told reporters in Moscow.
"We call firstly on the United States and all those in the region who have a relevant influence to come up with such a separation."
US 'invested too much into Syrian opposition to be able to backtrack' https://t.co/HtLGTzhBAI#SyriaCrisispic.twitter.com/jywsVevBeR

— Sputnik (@SputnikInt) 29 septembre 2016
Recapturing Aleppo would be the biggest victory of the war for government forces, and a potential turning point in a conflict that until now most outside countries had said would never be won by force.
The multi-sided civil war has killed hundreds of thousands of people, made half the Syrian population homeless, and allowed much of the east of the country to fall into the hands of ISIL jihadists who are enemies of all other sides.
Russia and its Syrian government allies say they are targeting only militants in Aleppo. But the US and EU say civilians, hospitals and aid workers are deliberately being struck.
UNICEF says 96 children have been killed and over 200 more injured in Aleppo this week alone.
96 children killed & 223 children injured in attacks this week in #Aleppo, #Syria. Each one a daughter or a son: https://t.co/ztSuUE8JdQpic.twitter.com/4fML77qTw2

— UNICEF (@UNICEF) 29 septembre 2016