UN condemns attacks on Aleppo hospitals as doctors struggle in ever-worse conditions
Comments
By
Sarah Taylor
with
ICRC, WHO, United Nations, Wall Street Journal, Swiss Info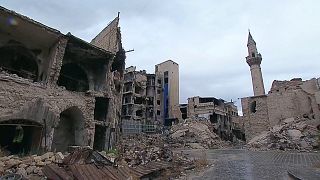 The International Committee of the Red Cross reports a dramatic rise in the death toll in Aleppo. UN Secretary-General Ban Ki-moon this week described the destruction in the rebel-held east as worse than a slaughterhouse 'even a slaughterhouse is more humane,' he said.
Even a slaughterhouse is more humane.

UN Secretary-General
Ban on #Aleppo: Imagine a slaughterhouse. This is worse. Even a slaughterhouse is more humane. #Syriapic.twitter.com/vCiqdOEj16

— UN Spokesperson (@UN_Spokesperson) September 28, 2016
'They are committing war crimes'
9. @ICRC_sy & @SYRedCrescent stand ready to support medical services in East #Aleppo. We need to be allowed to respond. We are #notatarget.

— ICRC (@ICRC) September 29, 2016
"This morning, we awoke to reports of strikes on two more hospitals in Aleppo," Ban Ki-moon told the UN Security Council on Wednesday (September 28).
"Let us be clear," he continued. "Those using ever more destructive weapons know exactly what they are doing. They know they are committing war crimes."
Russia 'open to two-day truce'
Russia, which backs the Syrian government in the conflict, has said it would support a 48-hour truce to allow aid through.
Immediately after a fragile one-week ceasefire brokered between Washington and Moscow ended earlier in September, Russia and its allies were accused of deadly bomb attacks on aid vehicles operated by the Syrian Red Crescent and the United Nations.
Moscow claimed the convoy was "escorted by terrorists."
Pushing for safe passage in and out of Aleppo
The World Health Organization is pushing for safe passage out of the city for the wounded.
"WHO has developed possible options for such evacuations, because that is the utmost priority at this point, it is to evacuate the wounded. It is vital that they are able to get these evacuations happening as soon as possible," the UN Deputy Special Envoy for Syria, Ramzy Ezzeldin Ramzy, told the press.
Estimates vary on how many trained medical professionals are still working in Aleppo, but according to Physicians for Human Rights, 95 percent have been been detained, killed or fled since the Syrian civil war broke out more than five years ago.
"International law is clear: medical workers, facilities and transport must be protected. The wounded and sick – civilians and fighters alike – must be spared," said the UN chief.
"Deliberate attacks on hospitals are war crimes. Denying people access to essential health care violates international humanitarian law."
The Geneva-based branch of the Union of Medical Care and Relief Organizations (UOSSM) reports some 800 medical aid workers have been killed nationwide since the conflict erupted in 2011. Of that figure, 115 have died in 2016.
"Only one gynaecologist serves the women of eastern Aleppo; and also two paediatricians only are serving the people, children of eastern Aleppo. No anaesthesiologist at all, inside Aleppo city," Abd Abraham Alomar of the Syrian Medical Society (SAMS) said.
The ICRC says as few as 14 trained doctors remain. It is calling for doctors from Western Aleppo to be allowed through to the east to help.
First aid is now being done in the streets, the aid agency says and cleaning staff are carrying out basic triage in the six, overrun hospitals still operational. Of those, only two are still able to perform major surgeries.