Second photography flashpoint over war photos in Moscow
Comments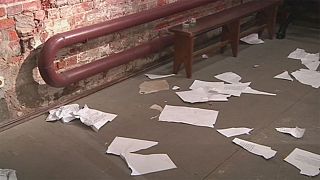 A photography exhibition in Moscow has come under attack for the second day.
A group of men invaded the Sakharov Centre in the Russian capital and disrupted the exhibition of work of winning contenders in an international contest called "Direct Look".
The show features photographs from Ukraine's embattled east.
Content
The conflict category of the contest drew winning entries from Alexander Vasyukovich from Belarus and Sergey Loiko from Ukraine.
The two photographers have taken stills of Ukrainian army soldiers in the regions of Donetsk and Luhansk. Fighting has been ongoing there since spring 2014.
Anger
However, the exhibition appeared to have provoked anger almost immediately.
The works were vandalised with red spray paint just after the show opened on Wednesday.
A man was seen on CCTV claiming they were the work of fascists.
The damaged photographs were removed on Thursday, instead of being restored.
The venue said it was concerned for the safety of visitors and staff.
Labels with a description of the works and the vandalism incident were erected in place of the original photographs.
Thursday's attack
A group of men, claiming to be Cossacks and pro-Russian rebels from eastern Ukraine, confronted the director of the centre.
They demanded that Sergey Lukashevsky promised never to display similar exhibits.
The group was led by a member of the council of deputies for the Moscow city district of Yakimanka.
Dmitry Zakharov brought a glass jar full of red liquid which he claimed symbolised the blood of children spilled at the hands of Ukrainian soldiers.
Lukashevsky defended the exhibition, saying the protesters had failed to see beyond the soldiers' uniforms.
What they are saying
"Those people who are displayed there kill children too. So there cannot be a time when people say 'they were simply doing their jobs.' They were killing," – protester Dmitry Zakharov.
"Because these pictures are of Ukrainian soldiers, these people think they are glorifying war heroes and are in praise of Nazis. In our opinion, the photographs are about the horrifying face of war. We don't see a glorification of war heroes," – exhibition organiser Sergey Lukashevsky.