Pope Francis takes first trip to Georgia, but not everyone is happy
Comments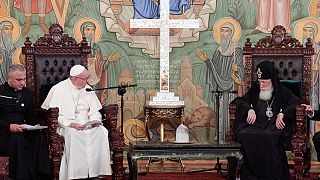 Pope Francis is in Georgia for the first time. The head of the Catholic Church was invited to the ex-Soviet Republic by his counterpart in the Georgian Orthodox Church, Patriarch Ilia II.
During his two-day trip to the predominantly Orthodox country, the Pontiff will give a holy mass at the Meshki Stadium in Tbilisi. Following that, he'll head a few kilometres away to Mtskheta, the former capital of Eastern Georgia and the site of a number of ancient churches.
He will travel to Azerbaijan on Sunday (October 2).
Today I leave for Georgia and Azerbaijan. Please accompany me with your prayers so we can sow peace, unity and reconciliation together.

— Pope Francis (@Pontifex) September 30, 2016
On Friday (September 30), he met President Giorgi Margvelashvili at the presidential palace in Tbilisi, where he called for called for a peaceful coexistence "among all peoples and states."
"Indeed, in far too many areas of the Earth, there seems to be a dominant way of thinking which undermines the coexistence of legitimate differences and disagreements – which can always arise – within a climate of civilised dialogue where reason, modernisation and responsibility prevail," Francis told those gathered at the palace.
Differences and disagreements were clearly visible outside Tbilisi's international airport when he arrived, where a group protested against the pope's visit.