Volcano erupts in Indonesia, thousands evacuated
Comments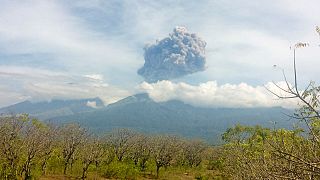 Mount Barujari on Indonesia's Lombok Island is erupting, sending plumes of ash thousands of metres into the air.
Mount Barujari: 1,000 tourists evacuated in Indonesia after volcano eruption https://t.co/MGrFstne8BRowena__Lindsay</a> <a href="https://t.co/EhLQsUr5K3">pic.twitter.com/EhLQsUr5K3</a></p>&mdash; CS Monitor (csmonitor) September 29, 2016
More than a thousand tourists, including 639 foreigners, were in the Mount Rinjani National Park, where Barujari is located, when the eruption began.
The eruption started on Tuesday without warning.
Initially, Indonesia disaster agency spokesman Sutopo Purwo Nugroho told reporters that emergency workers were searching for up to 389 tourists, but it is understood that they have now been rescued and are safe.
The agency said on Wednesday, several tourists declined to leave the park and hid away from park authorities hoping to document the eruption.
"They were even happy hearing that sound (of the eruption) and wanted to go there again," said Ipin, a tourist guide. "They are curious and wanted to hear more".
Mount Rinjani is just to the east of Bali island and is one of Indonesia's most visited active volcanoes.
Authorities closed the park gates and told visitors to keep at least 3 km away.