Scores injured as commuter train derails in US
Comments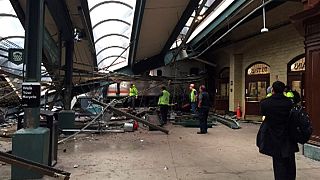 A train has derailed in a station in the US state of New Jersey.
The locomotive came off the rails at Hoboken station, 11 kilometres from New York City.
What we know so far
At least one person has been killed
More than 100 have been injured, some critically
The train carriages concertina-ed into the air, shattering the station's glass roof
The driver survived the impact
Rush-hour accident
A packed commuter train ploughed into a station in New Jersey at the height of Thursday morning's rush hour, bringing down part of the roof and scattering debris over the concourse.
At least one person was killed and more than 100 others were injured.
Witnesses described terrifying scenes as the front of the train smashed through the buffers at high speed.
It continued through ticket barriers and into the concourse, toppling support pillars and creating chaos at one of the busiest transit hubs in the New York City area.
Breaking News: A commuter train crash in Hoboken, N.J., killed at least one and injured dozens, an official says https://t.co/UVfgLzavGh

— The New York Times (@nytimes) September 29, 2016
"HORRIFYING": See photos from the scene after a New Jersey Transit train crashed into a platform in Hoboken https://t.co/XcsTM2ZiEXpic.twitter.com/yfD2vDHpaH

— New York Daily News (@NYDailyNews) September 29, 2016
Dramatic pictures posted by commuters showed a train carriage that appeared to have smashed right through the station concourse.
A section of roof has collapsed and wreckage and debris are strewn everywhere.
Where is Hoboken?
Hoboken lies on the west bank of the Hudson River across from New York.
The station is one of the busiest in the metropolitan area and is used by many commuters travelling into Manhattan from New Jersey and further afield.
Has there been an official statement?
Yes.
At a news conference in Hoboken, New Jersey Governor Chris Christie confirmed that one person was killed on the platform by debris from the crash.
There are no signs it is anything but an accident, he added.
Passengers trapped, some critically injured
Governor Christie told reporters 108 people were injured.
Medical workers at two nearby hospitals say some
are in a critical condition.
Several passengers were initially trapped in the wreckage but were later released.
No word on cause
There were no immediate explanations for what caused the crash.
The Federal Railroad Administration says its investigators are en route to the scene.
The National Transportation Safety Board says it will send its major incidents team to investigate.
.NYGovCuomo</a> says NTSB will investigate NJ Transit crash; PATH service will resume this afternoon, officials say <a href="https://t.co/ba6al6XX8S">https://t.co/ba6al6XX8S</a> <a href="https://t.co/Bo3vQST0Dz">pic.twitter.com/Bo3vQST0Dz</a></p>&mdash; New York Daily News (NYDailyNews) September 29, 2016
Driver seriously injured
The train's engineer, or driver, was seriously injured and is in hospital.
Governor Christie says he is cooperating with the official investigation.
What they are saying
"We are not going to speculate about the cause of the accident," – New Jersey Governor Chris Christie.
"The one thing we do know is that obviously this train was travelling at a fairly high rate of speed," – New Jersey Governor Christ Christie.
New York Governor Andrew Cuomo told the news conference it was obvious the train had come into the station "at too high a rate of speed", but that it was unclear why.