Israelis adjust to the loss of Shimon Peres
Comments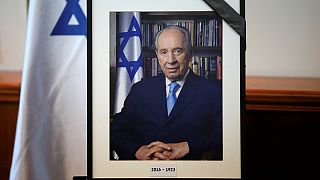 Israelis are adjusting to the loss of one of their elder statesmen as preparations began for the funeral of former president Shimon Peres.
Following his lying in state in front of the Knesset, Peres will be buried on Friday at Jerusalem's Mount Herzl cemetery.
His final resting place is being prepared in a section dedicated to "Great Leaders of the Nation".
World dignitaries including President Barack Obama,former President Bill Clinton and Britain's Prince Charles will attend.
Danny Gillerman is one of the many who have paid tribute to the man he called his friend:
" I saw how he was received when he was president and even when he had no title, he had a red carpet and was received like royalty everywhere in the world. So it's a big loss. It's a very big loss for me and my family and I think it's a huge loss for Israel and for the world."
Man in touch
Shimon Peres may have been in his 90s at the time of his death but he made every effort to stay connected with the young and he had a vast social media presence for a man of his generation.
"You can talk to him about Facebook, and YouTube, and stuff like that, " said musician and video producer Noy Alooshe. "I think this is why it was really easy for him and his crew like to open a Facebook page, the Instagram page, snapchat page, because he always talked about the future and about technology, like I think the social media was something that Peres was really into it."
In one video, created with the help of Noy Alooshe, Peres asks viewers to "share peace and speak up and change the world." It received hundreds of thousands of views on YouTube.
Shimon Peres was a serious man who devoted his life to politics, but those who knew him well say that he also had a great sense of humor. An example of this is video entitled " Shimon Peres Goes Job Hunting" which was published in 2014 to finish his term.