From religious teaching to a suicide belt: ISIL fighters' bequeathals to their brides
Comments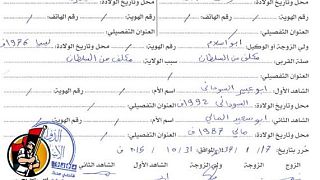 A set of marriage certificates recovered by the Libyan army from ISIL, reveals some of the surprising gifts offered by Jihadis to their brides.
The cache also casts light on the organised nature of the so-called Islamic State administration – each document is meticulously filled out, individually numbered and witnessed. Some do have blanks, for instance the space for the bride's signature is not always filled out. All are marked in the bottom left corner with ISIL's stamp, which the Libyan army has covered over on its Facebook page.
The certificates include the names of brides and grooms, although nicknames or noms de guerre are often used, details of any other current or previous wives and list two gifts offered by the husband to his new partner.
The first of these gifts, is presented at the time of the marriage. Sometimes it is a sum of money, although often nothing is listed. The second is an bequeathal in case of death or in the event of a divorce. The ISIL fighters frequently offer weapons such as a Kalashnikov rifle or even an explosive belt. One promises his widow an explanation of two verses of the Koran and other says he will leave 15 Libyan dinar (around 10 euros).