Palestinians express mixed reactions over death of Shimon Peres
Comments
By
Euronews
with
Reuters, Times of Israel, Jerusalem Post, Haaretz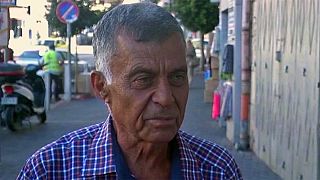 Palestinian President Mahmoud Abbas was one of many world leaders to pay tribute to the late Shimon Peres, whom he hailed as "a man of peace."
But some in the West Bank blame the former Israeli president for the settlement conflicts and resulting deaths in the region.
"He committed many crimes, one of them was in Qana," said Ramallah resident Halim Jaber.
"It is known that he has killed many Palestinians, but, despite that he was a moderate leader. Shimon Peres used to call for peace and for Arabs and Israelis to live together in the same area."
Sami Abu Zuhri, a spokesman for Hamas, the Islamist rulers in the Gaza Strip, said Palestinians were glad Peres had died.
"Shimon Peres was the last of the generation of co-founders of the Israeli occupation and therefore, his death represents the end of an era in the history of occupation and the beginning of a new era of weakness and retreat for the Zionist entity, we assure that the Palestinian people are happy at the departure of this criminal who had been involved in many crimes and in the bloodshed of the Palestinian people."
However, in a letter of condolence to Peres' family, Mahmoud Abbas expressed sadness and sorrow over the death and tweeted that it represents a "heavy loss for all humanity and for peace in the region."
It is unsure whether he will attend the late leader's funeral.