Venezuela's opposition demands 2016 recall vote despite ruling
Comments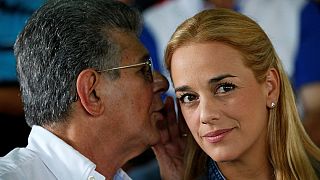 In Venezuela, the opposition has vowed nationwide rallies next month in a bid to force an immediate recall referendum on President Nicolas Maduro's rule this year.
The latest push for protests follows a decision by the country's electoral board ruling out a vote in 2016, all but guaranteeing the socialists will remain in power until 2019.
Despite that, opposition leader Jesus Torrealba said: "The recall referendum will held this year because it is in the constitution and it is our right and our need. Any attempt to block it will result in the mobilisation of the people, peaceful and firm, on the streets in order to achieve the restoration of constitutional order."
If Maduro lost a recall vote this year, as polls suggest given the country's chronic economic crisis, under the constitution presidential elections must be held.
But if it is delayed until 2017, the vice-president takes over.
"This recall referendum is not only against Maduro, it is against this nefarious and corrupt government. They will go to hell,'' opposition leader Henrique Capriles said.
On Monday, President Maduro held talks with US Secretary of State John Kerry in Colombia.
The Venezuelan leader has described the opposition's attempt to hold a recall vote as an attempted coup.