Nine years in jail for destroying Mali's shrines
Comments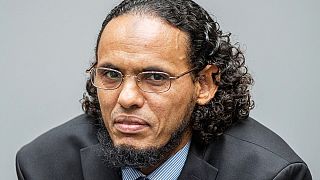 A former Islamist rebel is facing nine years behind bars after admitting the destruction of holy shrines in Mali – judged for the first time as a war crime by the International Criminal Court.
Some say they are prepared to forgive Ahmad al-Faqi al-Mahdi for the destruction of 10 mausoleums and religious sites in Timbuktu during Mali's 2012 conflict.
Such acts have rarely been prosecuted despite being illegal under international law.
Photos nowavailableof #ICC#AlMahdi#verdict: https://t.co/Ipp0XTLaALpic.twitter.com/shjTyc8Jyy

— Int'l CriminalCourt (@IntlCrimCourt) September27, 2016


Mixed views in Timbuktu
There are mixed views in Timbuktu.
"Timbuktu is a religious, forgiving and tolerant city. Ahmad al-Faqi apologised and he regretted his actions. So, being a city of tolerance and Islam, I think it is a relief to us," said Timbuktu resident Baba Haidara.
"Our religion is one of forgiveness, so it is up to us to forgive him," said Alphadi Wangara, the Imam of the city's Sidi Yahya mosque. "As a religious, Muslim man, I personally don't recognise the ICC's justice system. I know that the ICC is not just. So it is up to us to sentence or forgive Ahmad al-Faqi."
The head of Timbuktu's cultural mission, Al Boukhari Ben Essayouti, oversaw reconstruction of the city's damaged sites with UNESCO's assistance.
He said the trial sent a clear message. "Its goal was to make people understand that, just like when people are condemned for killing a man, when you destroy heritage, you can also be condemned. So that is the main message that we received."
How important were the sites attacked?

<br

Nine of them were on the UNESCO World Heritage list.

The ICC's presiding judges said al-Mahdi struck at the most meaningfully religious ones.

Specifically, they said he planned, led and participated in the attacks, supplying pick-axes and, in one case, a bulldozer.


<br

Destroyingcultural heritageeraseshumanity'smostcherishedartifacts#ICC + UNESCO</a> <a href="https://t.co/vBxJdKLA0n">https://t.co/vBxJdKLA0n</a> <a href="https://t.co/R0vHcP5VM8">pic.twitter.com/R0vHcP5VM8</a></p>&mdash; Int&#39;l CriminalCourt (IntlCrimCourt) September27, 2016


How long has the

ICC

been investigating the case?

<br

Since 2012.

This was when Tuareg rebels seized part of the north of Mali, imposing a strict interpretation of Islamic law.

French and Malian troops pushed them back the following year.




What was al-Mahdi's testimony before the court?

<br

During his brief trial in August, al-Mahdi asked for forgiveness.

He said he had been swept up in an "evil wave" when al Qaeda and the Ansar Dine Islamist groups briefly seized control of the ancient sites.

Prosecutors and the defence had agreed beforehand to accept a sentence of nine to 11 years for the former religious teacher.

The judges said the sentence took into account al-Mahdi's calls on other Muslims not to make the same mistakes he had.




What they are saying

<br

The verdict is "a landmark in gaining recognition for the importance of heritage for humanity as a whole and for the communities that have preserved it over the centuries," – UNESCO.