Arnold Palmer, golf's game changer
Comments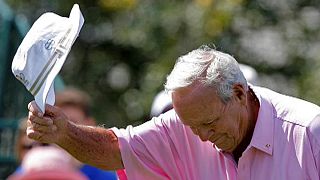 Some sportsmen and women who have been bestowed the status of 'Legend' do not always necessarily warrant it, but when you're describing Arnold Palmer it couldn't be more fitting.
He was a real game changer and a role model for so many.
With his aggressive and distinctive playing technique, good looks and charming personality, Palmer became a hugely popular figure in the world of golf and in sport in general.
Although six players have won more major titles few have helped transform what was regarded as a country club pursuit into a game for the masses.
Born in Latrobe, Pennsylvania, Palmer won 91 tournaments, including seven majors – the Masters four times, the U.S. Open once and the British Open on two occasions. The US PGA was the only major to elude him.
Along with his two principle rivals – Gary Player and Jack Nicklaus – Palmer helped promote the game of golf around the globe to new heights and capitalized on the growing reach of television and the financial benefits that came with it.
Nicknamed The King, Palmer was golfing royalty and became the first player to have his own special following.
'Arnie's Army' gathered in their masses around every green at every tournament to cheer on their hero.
He became the first golfer to earn $1 million in purses while his sponsorship deals helped create his multi-million dollar enterprise.
He played the Ryder Cup six times, twice as captain and the news of his passing has been emotional for some of the players ahead of the 41st edition of the event this weekend.
Current US Ryder cup captain Davis Love III said: "You know, these guys from The European Team, they respected and loved and played in his golf tournament and lived in Orlando and, you know, were under the same influence of Arnold Palmer and Jack Nicklaus, just like they were the great players from the other side of the pond. So it's got to settle in a little bit."
Love's European counterpart Darren Clarke said: "He was a global superstar, in not just our sport. He transcended our sport. Arnie's Army was known worldwide, and we are as shocked and saddened over Arnold's passing as everybody else in here, I'm sure, is."
As all eyes turn to Hazeltine for this week's Ryder Cup, thoughts however will no doubt be firmly on the passing of one of the greatest and most charismatic golfers to have ever graced the game.
September 26, 2016
Reading one of #ArnoldPalmer's favorite poems with Jay Haas, TomWatsonPGA</a> and <a href="https://twitter.com/garyplayer">garyplayer. ChampionsTour</a> <a href="https://twitter.com/hashtag/ArniesArmy?src=hash">#ArniesArmy</a> <a href="https://twitter.com/hashtag/TheManWhoThinksHeCan?src=hash">#TheManWhoThinksHeCan</a> <a href="https://t.co/JyqYMcpqqE">pic.twitter.com/JyqYMcpqqE</a></p>&mdash; Jack Nicklaus (jacknicklaus) September 27, 2016