'Troubled lawyer' gunman killed by police after injuring nine in Houston, Texas
Comments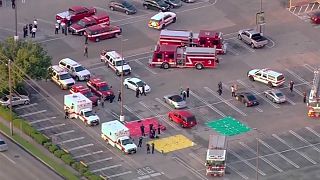 In the United States a gunman described as a "troubled lawyer" has shot and injured at least nine people in Houston, Texas – before being fatally shot by police, the authorities say.
The man opened fire at roughly 6:30 a.m. local time near the intersection of Wesleyan & Bissonnet streets near a shopping centre in the southwest of the city.
Houston Police say shots were fired between officers and the suspect, who was then shot by officers.
Six victims were taken to hospitals and three were treated at the scene after being short at while inside their vehicles in the wealthy neighbourhood of West University Place, acting Houston Police Chief Martha Montalvo told reporters.
One of the victims was in a critical condition and another was in a serious condition.
Montalvo said the suspect was a lawyer and had concerns about his law firm. Houston Mayor Sylvester Turner, in Cuba on a trade development trip, also said the motivation appeared to be "a lawyer whose relationship with his law firm went bad".
The police bomb squad was sent to the scene to secure the suspect's car, which reportedly had numerous weapons inside. Police were planning to search his house.
An eyewitness told a local television station she heard "the bullets literally whiz by my window" as she showed her car with two bullet holes in the windshield.
Numerous police cars and ambulances were sent to the scene.
with Reuters