Azerbaijan referendum to extend presidential term underway
Comments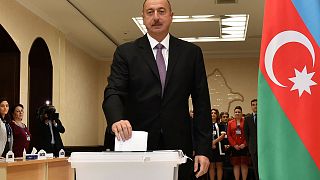 Azerbaijan has been voting in a constitutional referendum to extend the chief of state's term in office to seven years from five.
The proposals would allow President Ilham Aliyev, in power since 2003, to prolong his rule after his third term ends in 2018.
A previous referendum scrapped the country's two-term presidential limit. That means if he keeps being re-elected Aliyev, who proposed the constitutional changes, could rule for life.
"I think that as a representative of my country it is my obligation to come today here and participate in the voting process."
"I'm happy to be here taking part in the decision process for some important issues for the country and for individual citizens. I hope that our votes will count."
The opposition is against the reform. It says the changes would infringe on democratic freedoms, strengthen the current authorities and even "create the monarchy system of governing."