Venezuela: Opposition defiant despite setback in Maduro referendum push
Comments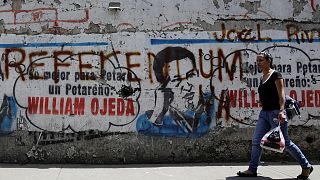 Opponents of Venezuelan President Nicolas Maduro are keeping up the pressure for a referendum that could force him from office this year, despite electoral authorities ruling out any such vote until early 2017.
The 20 percent threshold of public signatures needed to trigger the vote must also be met in each state rather than on a national level as the opposition wanted.
"They have their backs against the wall, said a defiant Jesus Torrealba, head of the opposition Democratic Unity coalition.
"They know for sure that if they opened 40,000 polling stations here, to hear the sovereign expression of the will of the people, this very day we would bring together over 10 million people expressing their will, and that afternoon we would be calling for their resignation."
The opposition, made up of a disparate multi-party coalition, will meet this weekend before unveiling its strategy on Monday, Torrealba added, a delay that frustrated some supporters anxious for a swift response.
Maduro's popularity has sunk as economic crisis grips oil-rich Venezuela, with families skipping meals due to food shortages and galloping inflation. Polls currently show he would lose a plebiscite on his rule.
Venezuela election board says Maduro referendum may happen in 2017 https://t.co/JrRY03jQjw

— Reuters Venezuela (@ReutersVzla) 22 septembre 2016
The timing of any recall referendum is key: if held this year and Maduro loses, new elections would be triggered. If delayed until 2017, however, Maduro would simply be replaced by his vice president, as per the Constitution.
The election board ruled that the 20 percent threshold of signatures from registered voters must be met in each of Venezuela's 23 states, during the Oct. 26-28 signature drive, and that only 5,400 voting machines would be made available, far fewer than the 19,500 demanded by the opposition.