Manslaughter charge for US police officer after fatal shooting of black man
Comments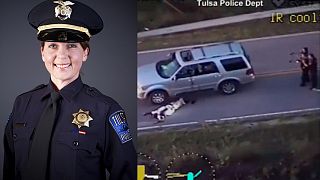 A white police officer in the US state of Oklahoma has been charged with first degree manslaughter after the fatal shooting of an unarmed black man whose car had broken down and blocked a road.
The final moments of Terence Crutcher, 40, were captured on police footage that shows him with his hands in the air shortly before he was shot.
If convicted, policewoman Betty Shelby faces at least four years in jail.
Tulsa police officer charged with first-degree manslaughter in man's death https://t.co/khK7DLrp9w | AP Photo pic.twitter.com/tBFWrXDyzw

— POLITICO (@politico) 23 septembre 2016
"Although she is charged, she is presumed innocent until a judge or jury determines otherwise," Tulsa County District Attorney Steve Kunzweiler told reporters after an investigation in which more than 50 people were questioned.
DA announces manslaughter charges against Tulsa officer in shooting of Terence Crutcher. https://t.co/hC97LBuDEWhttps://t.co/rHGbAfPSSA

— ABC News (@ABC) 23 septembre 2016
According to an arrest affidavit, Shelby told investigators "that she was in fear for her life and thought Crutcher was going to kill her".
The affidavit said an officer flanking Shelby used a Taser on Crutcher, who was standing facing his vehicle. Then Shelby fired at Crutcher, whose left hand was not clearly in view.
In a bid for transparency, police in Tulsa have released two videos of the shooting, one of which was taken from a police helicopter and the other from a dashboard camera in a patrol car.
"While we are pleased to learn that the officer who senselessly killed my beloved twin brother is being held accountable for her reckless actions, nothing will bring him back," his sister Tiffany Crutcher told a news conference.
The incident has intensified scrutiny of the use of excessive force by police and claims of racial bias by law enforcement in the United States.