And also...fur flies over dead cat handbag, TVs for cotton pickers and Winston Churchill helps charity
Comments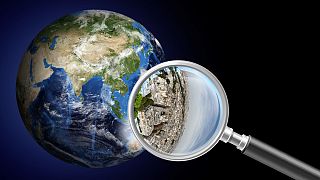 Every Friday, journalists from euronews' various language teams choose a selection of stories from Europe and beyond which did not reach the international headlines
---
Iraq: Young hero braves mines to lead family to safety from
ISIL
He is only a boy but Ahmed Ali Rashed is Iraq's new national hero. According to local media,
the youngster was fleeing with his father, family and others from territory controlled by ISIL when they encountered a minefield ahead.
لم يبلغ ال15إلاأنه بطل فدى بنفسه165شخصاً وأوصلهم إلى برالأمان،إنه علي أحمد راشد الكوالط

صغيرٌ في عمره كبيرٌ في فعله pic.twitter.com/SlGe4pzIzq

— آلملكة غزلآن (@bayader2004) September 16, 2016
Ahmed's father was ready to confront the danger first, putting his own life on the line so as to 'clear the way' for the group. But Ahmed, described as under 15 years old, convinced his dad not to do so, because if he should die, Ahmed and his brothers and sisters would become orphans and nobody could protect them anymore. Instead, Ahmed himself took the risk and found a secure way to get across the minefield, saving the lives of 165 people.
Ahmed survived and local authorities thanked him warmly for his help.
---
New Zealand: 'Glamour puss' handbag – made from a dead ginger cat!
It is the ultimate feline fashion accessory – but a taxidermy cat bag sold at auction in New Zealand has outraged animal lovers, with some branding it 'disgusting'.
'No animals were killed or hurt to create this piece,' says the New Zealand auction site TradeMe which sold the bag to a bidder for NZ$545 – that is just over 350 euros.
Taxidermist Claire Third let the cat out of the bag by revealing she made the 'one off glamour puss purse' from a feral cat she had found squashed by a car in the countryside.
Who will bag the cat? https://t.co/jbJMmDZk0O (Entertainment) #newzealand#nznews

— New Zealand News (@KiwiLiveNews) 21 septembre 2016
---
UK: Doing the right thing with your first plastic £5 notes
People across Britain have been celebrating the release of new polymer five pound notes by donating the first one they get their hands on to charity.
Fundraiser John Thompson came up with the idea which spread rapidly on social media.
People are doing something wonderful with the new £5 note #FirstFiver#FiverGiverpic.twitter.com/CmbDxNSNXH

— Huffington Post UK (@HuffPostUK) 22 septembre 2016
Charities have been lining up to appeal for donations.
Be a #firstfiver champ and donate your first plastic fiver to @wheelpowerhttps://t.co/YbRNTt3M5tpic.twitter.com/Sz9HuhMSGs

— WheelPower (@wheelpower) September 17, 2016
Would you donate your #FirstFiver to us and help children with brain injury? #Fiver#FiverChamp#FiverGiverpic.twitter.com/ARUKvEWnbM

— The Children's Trust (@Childrens_Trust) 17 septembre 2016
Thank you everyone who's already donated their #firstfiver to us! Want to get involved? https://t.co/dWxVR67QBRpic.twitter.com/KU10QAkikv

— British Red Cross (@BritishRedCross) 22 septembre 2016
No doubt Sir Winston Churchill, who features on the first plastic fiver along with Queen Elizabeth, would be proud!
---
Uzbekistan: Electrical prizes for cotton pickers
Reports from eastern Uzbekistan say TVs and other electrical appliances are being promised to the most productive cotton pickers during this year's annual harvest.
The prospect of washing machines, fridges and TVs might seem a fun idea to boost morale yet the context of the Uzbek cotton industry is stark.
Cotton pickers are being promised prizes in eastern Uzbekistan https://t.co/qv8UYfxnMi#NewsFromElsewhere

— BBC Monitoring (@BBCMonitoring) 12 septembre 2016
Human rights groups accuse the country of trying to conceal a massive, state-orchestrated forced labour system that underpins its position as the world's fifth-largest cotton exporter. They cite regular arrests, intimidation and harassment of activists.
---
Venezuela: Footballers robbed on team bus
Six armed men hijacked a bus carrying Venezuela's Trujillanos football team and stole most of the players' and coaching staff's belongings.
The club was heading home, having lost 2-1 at Monagas on Sunday, when their bus was targeted in the early hours of Monday near Boca de Uchire in the eastern state of Anzoategui.
The team was held up for 2hr 35min, Trujillanos said. It said the armed men had threatened to detonate grenades to destroy evidence if the bus had a GPS or was under escort. None of the team members were hurt.
El Bus fue desviado kilometro y medio. Robaron absolutamente todo. (Cámaras, Laptop, Uniformes, Tacos, Balones) 3/5 pic.twitter.com/T7KqRJrZJh

— TRUJILLANOS F.C. (@trufc) September 19, 2016
Sources:
Iraq: Young hero braves mines to lead family to safety
New Zealand: 'Glamour puss' handbag – made from a dead ginger cat!
UK: Doing the right thing with your first plastic £5 notes
Uzbekistan: Electrical prizes for cotton pickers