Poland debates total abortion ban
Comments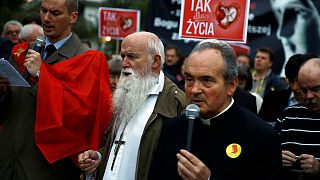 The Polish parliament has begun debating proposals that would implement a total ban on abortion, despite already having some of Europe's most restrictive laws.
Currently pregnancy terminations in Poland are only allowed in cases of rape, incest or if the mother or baby have serious health problems.
The Catholic Church supports the proposals, which would also see sex eduction curbed, but the ruling Law and Justice party, fearful perhaps of a public outcry, appears reluctant to give its full backing.
If adopted on Friday the new law could see doctors who perform abortions, and women who undergo the medical procedure, jailed for five years.
It would also put Poland in a group of eight states in the world, including El Salvador, Guatemala and the Vatican.