Poland: pushing towards a total abortion ban?
Comments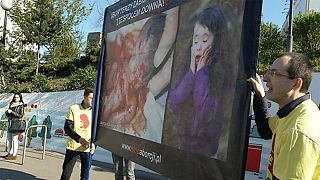 On the streets of Poland a battle for the future of abortion is being fought.
Maria had to make this decision alone a few years ago. The young woman was brutally raped by a group of men resulting in her pregnancy. She had an abortion.
Maria says it was the most difficult decision of her life.
"However it was my inner battle with thoughts and feelings," she says. "Everything that was happening to me did not concern the church nor my parents, nor my friends because they were not in a position to help me. It was a very difficult time for me."
Supporters of the 'Stop Abortion' campaign want to change what many describe as the Polish compromise reached by politicians and the church in the 1990s.
Under the current law, a woman who was raped, whose life is at risk, or who carries a fetus with defects can abort. An all-out ban would totally prohibit and criminalise abortion.
Campaign posters
Mariusz Dzierzawski from Right to Life Foundation describes the impact of pro-life posters seen in many Polish cities.
"Owing to this kind of poster, which can be seen in dozens of cities in Poland, public attitudes have changed," said Dzierzawski. "People see that abortion is not a lesser evil but a cruel murder. And therefore more and more Poles are convinced that the life of each child must be protected from conception."
Pro-life supporters often recall the communist era, when women could freely abort but were also pressured to do so."
"In my family in those days, my mother – a teacher – was threatened that her career would not develop properly if she had third child," explained Fryderyk Migaczewski. "As a result, she had an abortion and it could have been me."
Thousands demand liberalisation of current abortion law
In response to the bill backed by pro-life supporters, thousands of Poles are demanding the current law is completely liberalised.
Activist Karolina Wieckiewicz calls the existing legislation a fiction. She manages a hotline to help women with their legal abortion problems. With other women she has created a movement on Facebook to oppose the pro-life campaign.
"Women are humiliated," said Wiekiewicz from the Recovered Choice Group. "Their decisions are questioned. They are not given the right  to decide whether they want to terminate a pregnancy and they have a lot of obstacles to overcome to actually perform this procedure. They are often deceived about what threatens them. In such a situation when the pregnancy threatens their life or health, the facts are hidden from them. Even serious birth defects are hidden, or diagnostic tests are elongated, as a result  sometimes they find out about the serious defects of the fetus too late to stop pregnancy."
Whose decision?
Meanwhile Maria keeps track of what is happening on the network, but says she doesn't want to be involved, nor would she give advice to women who want an abortion.
"Abortion should be decided only by the woman, like me in my situation," said Maria. "If the fetus is abnormal, such a decision should be taken by both parents. Nobody else should be involved."
Maria was lucky when she underwent the procedure. A gynecologist took good care of her. Tightening the abortion rules is sharply criticised by professor Romuald Debski. He believes that a stricter law would be very dangerous to both patients and doctors.
"Under the new bill, a doctor trying to save a woman's life and causing the unintentional death of an unborn child would be imprisoned for up to three years," explained Professor Romauld Debski, Gynecologist. "It would be the end of prenatal diagnosis and therapy. We would stop being true obstetricians. Doctors would not risk being punished, for example, trying to save women's lives, which is not always successful."
"I still keep thinking back to that time, I still wonder if it could have been different," reflects Maria. "But I think, I wouldn't have been able to bring up this child. I was not ready for that. This was not the time."
Live updates from our Insiders team