New acting Latin Patriarch for Jerusalem voices his fears for Christianity in the Middle East
Comments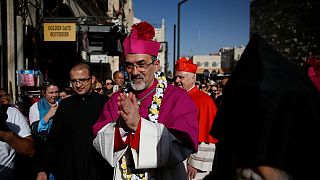 The new acting Latin Patriarch of Jerusalem has voiced his fears for the fate of Christians in the Middle East saying their presence in the region is under threat.
Pierbattista Pizzaballa, a Franciscan priest, took office during a ceremony on Wednesday and will be chief religious figure for Catholics in the Holy Land.
Highlighting the region's refugee crisis, he described the situation for Christians in Iraq and Syria as "catastrophic".
"We are welcoming and receiving thousands of refugees, from Iraq first and now also from Syria, not just Christians, also from all different communities. This is just a drop, maybe, because millions came, but we cannot alone, once again, solve all the problem."
Traditionally held by native Arabic speaker, Italian-born Pizzaballa will hold the post until a new Latin Patriarch is appointed.