Thousands flee and fire destroys Lesbos migrant camp
Comments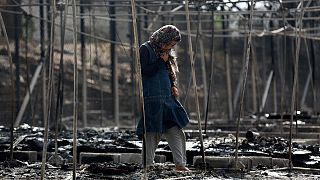 Police say thousands of people fled a migrant camp on the Greek island of Lesbos on Monday night.
It happened when a fire swept through tents after reported violence among people living in the Moria camp.
About 60 percent of the living accommodation has been destroyed by the fire causing thousand to flee and seek shelter on the islands streets.
More than 5,000 people live on the island's camps which were designed to house 3,500.
Lesbos is very close to Turkey and a main destination for migrants looking for a better life in Europe.
Authorities are not sure whether the blaze was started by migrants and refugees frustrated by long delays in processing and over crowding.
There are reports that some people had lit fires to keep warm as the temperature drops and winter sets in.
The Greek government may host families on board two ships until the camp has been rebuilt.