Humanitarian aid convoy hit by air strike in Syria
Comments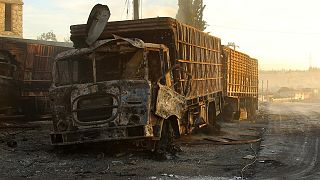 An international aid convoy has been hit by an air strike while delivering aid to 78,000 people in the hard-to-reach town of Urm al-Kubra in Syria.
At least 18 of 31 trucks in the UN and Syrian Arab Red Crescent (SARC) convoy were hit on Monday along with an SARC warehouse, UN spokesman Stephane Dujarric said in New York.
SARC Aleppo director Omar Barakat was among the dead, Mardini said. "The team is in shock."
"Omar was badly injured and rescue team could not reach him for two hours. When he was evacuated he could not survive his wounds," he said.
Aid convoy destroyed: air raids, shelling resume after Syria army declares truce over https://t.co/uuMU3GkjXPpic.twitter.com/0Cw4QjzBvl

—

AFP

news agency (@AFP) September 20, 2016
Aid deliveries to besieged areas were a key part of the cessation of hostilities deal brokered by the US and Russia seven days ago.
However earlier the Syrian military announced in a statement that the effect of that "truce regime" which came into force on September 12 was now at an end.
Speaking in reaction to the announcement, US Secretary of State John Kerry said: "Well, the Syrians do not – didn't make the deal. The Russians made the agreement. So we need to see what the Russians say. But the point – the important thing is the Russians need to control Assad, who evidently is indiscriminately bombing, including of humanitarian convoys. So let's wait and see and collect the facts. We need to see where we are, and then we'll make a judgment. But we don't have all the facts at this point."