France pledges more resources to combat terrorism
Comments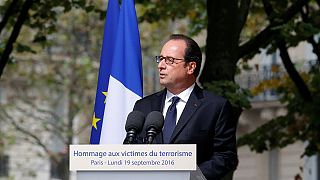 French President François Hollande has announced additional resources to support victims and combat terrorism at an annual commemoration ceremony in Paris.
The event, organised by associations of victims has gathered hundreds of families and people injured in terror attacks. It commemorates those killed in France as well as Brussels, Burkina Faso and Ivory Coast.
VIDEO: President Hollande receives KagutaMuseveni</a> at Elysee Palace <a href="https://twitter.com/FrankTumwebazek">FrankTumwebazeknbstv</a> <a href="https://twitter.com/UgandaMediaCent">UgandaMediaCentpic.twitter.com/bN4PKNxtRz

— don wanyama (@nyamadon) September 19, 2016
Hollande announced:"We must ensure that the action taken is sustained and I am of course talking about all the measures taken to foresee attacks, deter them and stop them. It's a constant battle that will require yet more resources than those I have already called for."
A 30-year-old fund is to be enhanced and reforms are to be made to the system for giving compensation to terror victims' families.
"Consequently, the resources of the fund will be reconsidered and the state will grant them over time," Hollande said
France has remained under emergency law since the series of attacks in Paris last November.
Hollande's government has increased security service recruitment and police presence in sensitive areas.
Two hundred and thirty eight people have lost their lives to terrorism over the past 12 months in France alone.