New York explosion and suspect: what we know
Comments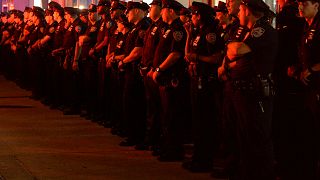 Ahmad Khan Rahami, the 28-year-old resident of New Jersey and the prime suspect of planting bombs in New York City and New Jersey, has been captured by police.
Rahami, a naturalised US citizen of Afghan origin was taken into police custody after a shootout with police in Linden, New Jersey, just south of the city of Elizabeth.
A manhunt was underway on Monday to find and question Rahami as police believe surveillance videos show him near the scene of the bomb attack in Chelsea, central New York City.
In the shootout, two police officers were wounded but their injuries are not life-threating.
Rahami is reportedly wounded after the exchange and is undergoing surgery. He is expected to live. Video of Rahami moments after his capture showed him conscious in a stretcher.
WANTED: Ahmad Khan Rahami, 28, in connection to the Chelsea explosion. Call #800577TIPS with any information. pic.twitter.com/rBDQGfXwbh

—

NYPD

NEWS

(@NYPDnews) 19 de septiembre de 2016
<sc
A device exploded around 21:00 local time in a dumpster a few blocks away from the Empire State Building.
Twenty nine people were injured, one seriously, after the blast on Saturday. As of Sunday, 26 people taken earlier to hospital were released.
Another bomb was found nearby. This was safely removed by police.
Investigators say the bombs were filled with pellets, apparently to increase the likelihood of causing injury or death.
#Update re: Explosion (photo) pic.twitter.com/AtqllF3JEZ

—

NYPDC

ounterterrorism (@NYPDCT) September 18, 2016
Both of the bombs were made using pressure cookers.
A separate explosion in New Jersey, the neighbouring state to New York, is linked to the Manhattan devices, according to Homeland Security officials. This device, described as a pipe bomb, did not cause any injuries.
This is the device found at second location, near New York explosion, officials say. https://t.co/cpgJgDr4X5pic.twitter.com/TZr07KwDra

—

CNN

(@CNN) September 18, 2016
Five more pipe bombs were found in a bag left at a train station in Elizabeth, New Jersey on Monday morning.
One of the devices reportedly exploded when the bomb squad was attempting to disarm it. No injuries were reported.
FBI Bomb Squad is on scene and continuing the investigation at the train station in Midtown Elizabeth. pic.twitter.com/qvmzsgisjC

— Chris Bollwage (@MayorBollwage) September 19, 2016
New York Mayor Bill de Blasio said the blast was a deliberate act but said no links to terrorism had been identified.
However, New York State Governor Andrew Cuomo said the explosion was an act of terrorism, but said no links to known terrorist groups had been found by investigators.
New York City remains on high alert.