US: Pipe bomb explodes on route of charity road race
Comments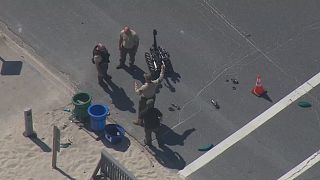 In the US, a pipe bomb has exploded along the route of a charity road race in aid of military veterans and their families.
The device went off in a bin in Seaside Park, in New Jersey, around 80 miles south of New York City.
No injuries were reported in the attack, which authorities believe was deliberate.
Officials say the motive, at this stage, is unclear.
The explosion stirs memories of the deadly blasts at the finish line of the Boston Marathon in 2013, which killed three people and wounded more than 260 others.
The rubbish bin contained several "pipe bomb-type devices" wired together, according to officials. One is said to have gone off.