Pulitzer Prize-winning playwright Edward Albee dies, 88
Comments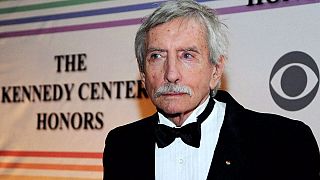 Three-time Pulitzer Prize-winning playwright Edward Albee has died at the age of 88.
Albee earned a reputation as one of America's greatest dramatists with works which challenged his audiences, such as 'A Delicate Balance' (1966) and 'Who's Afraid of Virginia Woolf' (1962), the latter an intimate portrait of a volatile marriage.
Edward Albee, who did so much in his life https://t.co/9OYSCBAq5spic.twitter.com/ccP7RtYAUy

— New York Times Arts (@nytimesarts) September 17, 2016
The Tony Award-winning 1962 play ran for years and was adapted into a 1966 film starring Richard Burton and Elizabeth Taylor.
Albee died at home in Montauk, New York, after a short illness, according to his personal assistant, Jakob Holder. Some years earlier, before surgery, he penned a message to be issued in the event of his death. It read:
"To all of you who have made my being alive so wonderful, so exciting and so full, my thanks and all my love."