Controversy on the campaign trail: Donald Trump talks gun control
Comments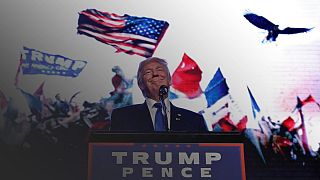 Donald Trump has, once again, sparked controversy on the campaign trail.
I think that her bodyguards should drop all weapons. They should disarm, right?

Republican presidential nominee
This time, the Republican nominee in the race for the White House has attacked his opponent Hillary Clinton's pledge to introduce tighter restrictions on gun ownership and control.
Trump says the Second Amendment right to keep and bear arms is "about self-defense, plain and simple."
"I think that her bodyguards should drop all weapons. They should disarm, right? Right? I think they should disarm. Immediately. What do you think? Yes? Yes. Yeah. Take their guns away, she doesn't want guns. Take them, let's see what happens to her. Take their guns away. OK? It would be very dangerous."
The Clinton camp has, again, labelled Trump "unfit to be President."
In a statement on behalf of the former Secretary of State, her campaign manager Robby Mook said:
"Whether this is done to provoke protesters at a rally or casually or even as a joke, it is an unacceptable quality in anyone seeking the job of commander in chief.
"He is unfit to be President and it is time Republican leaders stand up to denounce this disturbing behavior in their nominee."
Her supporters also denounced his comment, saying it alludes to violence against the female nominee.
Clinton, meanwhile, was following in Trump's footsteps and recording an appearance on Jimmy Fallon's 'The Tonight Show.'
When Fallon asked her about her "serious demeanor," the Democratic nominee said it was important to talk with gravity about subjects such as the ISIL militant group.
However, she was quick to poke fun at herself following a bout of pneumonia. As Clinton entered the studio, Fallon jokingly protected himself from infection with a surgical mask, provoking a laugh and a high five from the candidate. Following the exchange, the late night talk show host pulled out a bottle of hand sanitiser…